How to Choose The Right Area Rug
If you're like me you may have grown up in a house with wall to wall carpet.
Oh that carpet was cozy on our feet and we did love it. But then we grew up and got to experience hardwood floors.
Hardwood floors are beautiful and easy to clean. They sparkle and shine and have a warmth and patina all their own.
And don't even get me started on what's under carpet. That's something no one wants to think about.
But a huge open room of hardwood can feel, well, like a huge open room.
An area rug can define a room and make it feel more cohesive and comfy. All you have to do is roll one out in your space and be amazed by the transformation.
An area rug grounds your space. It needs to be easy to take care of, it needs to fit the style and the space, and it needs to compliment your decor.
That's a lot of pressure to put on a rug.
But there are so many rules to picking an area rug.
Or there aren't enough rules? You just want someone to tell you which rug will work already!!
Well rules are made to be followed and rules are made to be broken.
Instead of calling these rules, let's say they are just guidelines. Use them to help guide you in the right direction.
The Most important Area Rug considerations
Do I love it? Of course the most important consideration is how you feel about the rug. If you don't love it you'll be less likely to love the room that it's in so spend some time searching for an area rug that you love.
How does it feel underfoot? If it's going in your bedroom you might want something thick and plush. If it's going in a high traffic area you might want a flat weave, hardworking rug.
That doesn't mean that you have to sacrifice style however.
Will it fit the area? Consider your lifestyle and how the rug will fit into it. Do you have small children or pets? Or is going into a small office that is rarely used?
Do you change up your decor often or do you invest in timeless pieces that fit into a variety of styles? This can help you determine how much money you're comfortable spending on an area rug.
Can I take care of it? Rugs need to be maintained regularly. A weekly vacuum and a yearly cleaning are the minimum requirements so you'll need to consider it it's a rug that you can clean yourself or consider what the cost of upkeep might be.
How Big Should my Area Rug Be?
The eternal question about which size of rug to use.
And you know what the answer is? It depends.
It depends on the room, the room size and the furniture grouping.
Here are a few guidelines to follow:
In a bedroom you want the rug to make a frame around the bed. It's nice to have about two feet of rug around for your feet to pad around on. The rug should be placed horizontally to your bed so it's not important for your nightstands to be on the rug.
The ideal size for a bedroom area rug is going to be an 8X10 for a queen size bed and a 9X12 for a king size bed.
A great alternative is to use two smaller rugs, one on either side of your bed. This is also a great way to use a smaller rug that you love.
In a Dining Room the rug should be large enough that all of the chairs stay on the rug even when they are out from the table. So the best size of the rug for your dining room is going to be very dependent on the size of your table. Measure your table and add 2 feet all the way around to get the best size.
In a Living Room the rug should pull all of your furniture together. Ideally your furniture should sit completely on the rug, or at least the front legs of your furniture should be placed on the rug.
The size is going to depend a lot on the size of your room and your furniture layout.
Does that make all this as clear as mud?
At the end of the day it's your home and your rug so you have to love the way it looks and feels in your space. All the advice in the world is just supposed to help guide you to the best choice.
So a couple of more points….
What if I Have a Really Large Room?
If you've got a big space to decorate, area rugs can help you break the space into smaller "rooms". This will help your space feel more cohesive and less like a banquet hall.
Unless it is a banquet hall.
You can use one rug to set apart a space, or you can use multiple rugs to break your space into zones, such as dining area, living area, entry, etc.
The long side of your rug should follow the longest piece of furniture. So your sofa should ideally sit on the longer edge of your area rug.
What if I love a Rug that's Too Small?
You found the perfect rug and it's just too small for your space?
There are some beautiful vintage rugs and since they aren't mass produced you can only choose from the size offered. Yes, I'm guilty of this, picking the one that's too small and too expensive and then falling in love with it.
This is a great opportunity to layer rugs. You can make your small rug a showpiece on top of a larger, more neutral rug like a sisal or jute.
It's fun to lay your beautiful rug at an angle or put it in a spot where it's going to get the most attention.
Area Rug Materials
It really helps to know what all the rug styles are before you start shopping so you can have a better idea of what you're looking for. If you're shopping online it can make the difference between buying a rug you love or being completely surprised at the one that shows up on your doorstep.
The style and material of the rug has a direct correlation to the price of the rug too. A hand knotted rug is going to be more expensive than a mass produced rug. It's also going to be one of a kind.
Hand Knotted
This is just like it sounds, pieces of yard are tied onto longer pieces (called the warp) by hand. This is labor intensive and expensive but also custom and unique.
The more knots there are the more durable the rug will be. This will also add to the value and expense of the rug.
A hand knotted rug can have as few as 50 knots per square inch (make it coarse) up to over 400 knots per square inch, which makes it very fine.
So just picture in your head tying your shoes over 400 times, fitting that knot into a square inch. I mean really it's just hard to imagine isn't it?
Tufted
Tufted rugs are made without knots. Yarn loops are pulled through a backing material and sheared to create a smooth surface. This called the pile, and that's basically how thick, or deep, the cut is.
Tufted rugs can be made by machine or by hand, and this means that very high quality rugs can be made much faster than by hand knotting.
A tufted rug may shed more than other styles and will require more frequent vacuuming.
Hand Knotted vs Hand Tufted
If you're trying to determine if a rug is hand knotted or hand tufted here's a great article on how to tell the difference.
Shag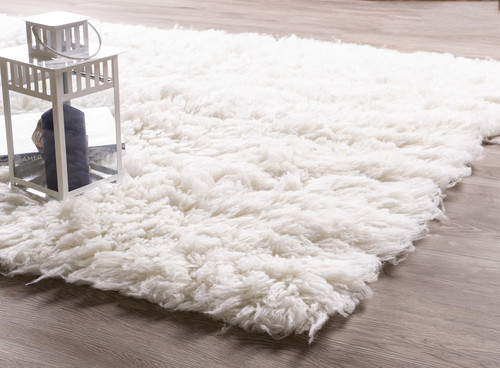 A shag is simply a tufted rug with a really long plush pile. You don't want to drop an earring in a shag rug because it could disappear completely.
Hooked Rugs
A hooked rug is made similarly to a tufted rug, but the knots are left intact. This gives the rug a knobby texture and can look like embroidery.
Hooked rugs can be made by hand or machine.
I have wool hooked rugs in the bedrooms at our house. I love the look and feel of these rugs and they hold up well to the traffic that they get. The one downfall we've found is that if our dogs have stickers in their fur they can easily become caught in these rugs.
Flat Woven Rug
A flat woven rug is made with a weave, much like you would picture a basket being made. Just like the name, they are flat and aren't going to have a pile to them.
Kilims and Dhurries are flat woven rugs and these can also be made by hand or machine.
Many of these can be reversible although the pattern may look different on either side.
These are your best choice for high traffic areas.
Braided Rugs
A braided rug is similar to a flat weave in that it's not going to have a pile, and they are generally also reversible. That's a huge bonus in my book!
The material is braided and then sewn in a spiral style to hold them together. These can be very durable and strong rug that will work in heavy traffic areas.
The Shape of an Area Rug
The shape of your area rug should mimic the shape of your furniture and/or your room.
If you have a rectangle dining table then you'll want to put a rectangle rug under it. A round table will look better with a round rug.
If your room is a long rectangle you may want to stick to a rectangle shape so that it fills your room and doesn't give you an awkward edge on one side.
The opposite side of that is when you have a large room and your dividing into zones. In that case you may want to use different sizes and shapes to divide up your space.
Because for every rule, there a reason to break that rule!
So are you ready to start shopping yet?
I can't help you pick your style and pattern but I hope I gave you some direction on what to look for in size and material.
You can find rugs at many price points and at many stores. It helps to narrow down the size and style of rug that you're looking for before you start the search.
I love to see a rug in person so I can tell it's true colors and I want to touch it. We're barefoot in our home a lot so I want rugs that feel good on our feet and look good under them.
That didn't stop me from buying a rug online when I fell in love with the pattern and colors. An easy return system makes it much easier to take a risk on decorating items that I might not love in person but so far I haven't been disappointed with my rugs.
Happy rug hunting.